Thursday, June 26, 2008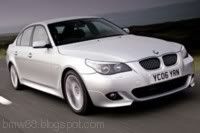 The
BMW 5 Series
is a mid-size luxury car executive car manufactured by BMW since 1972. The car, now in its fifth generation, is sold in sedan and touring body styles. On January 29, 2008, the 5 millionth 5 series, a 530d sedan in Carbon Black Metallic, was manufactured.
There have been five generations of the BMW 5 Series to date. To differentiate between them, they are referred to by their unique chassis numbers (EXX)
The BMW 5 Series began the BMW tradition of being named with a three-digit number. The first digit (5 in this case) represents the model, and the following two digits (usually) represent the size of the engine in deciliters, which is the main distinguishing difference. Additional letters or words may be added to the end of the three-digit number to define the fuel type (petrol or diesel), engine or transmission details, and the body style. The 'i' originally stood for (fuel) 'injection'.
These are videos relating to BMW 5 Series
BMW 5 Series E28 1985 Commercial
BMW 5 Series E28 in TopGear 1991
BMW 5 Series 545i 2004 Crash Test
(featuring Crash Test Dummies)
Bmw 5 Series Diesel Vs Petrol - Top Gear
BMW 5 Series 530i Review - Top Gear
And the M5, BMW M5 vs BMW F1 - Fith Gear